"I recently lost someone close to me from AIDS. I'm delighted to wear a red ribbon."
"You guys are doing good! I lost my brother in 1988 [to AIDS]."
"What is this for?"
"Oh! World AIDS Day, that's a thing?"
---
At 8:00AM this morning 13 people took HIV/AIDS awareness to the streets for World AIDS Day. They were part of the Toronto People With AIDS Foundation's (PWA) Red Ribbon Brigade with the mandate to give out as many red ribbons and call-to-action cards as possible all in an effort to ensure people know that today is World AIDS Day and there's still so much more work to be done.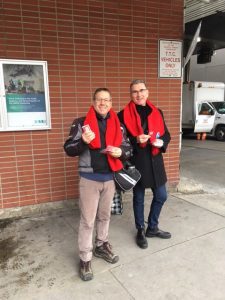 The quotes above are a sample of the comments received while engaging with the busy crowds on their way to work, school or wherever they needed to be.
#endSTIGMA
"One guy took the ribbon from me and asked what it was for. When I told him it was for World AIDS Day he made a disapproving sound and thrust the ribbon back at me."
There has been resurgence in efforts to acknowledge and bring attention to the stigma around HIV/AIDS that prevails. With the advancements in treatment and the shift from almost certain death after diagnosis to the increased certainty of a long-life, generally, people no longer seem to consider HIV as an issue.
Unfortunately, there still is no cure.
As people live longer with HIV, their need for care and support increases and shifts. Needs are complex and vary depending on age, length of time living with HIV, exposure to various drug cocktails, socio-economic status, etc. PWA is, and has since it was founded 30 years ago, the organization that people turn to for help regardless of where they are in their journey with HIV.
Just over one in five people living with HIV in Canada are unaware that they have HIV.1
PWA's Red Ribbon Brigade set out to raise awareness and that they did. Back in the late 90's people stood on street corners handing out pamphlets and red ribbons about HIV and AIDS. And today, we brought that action back. "A lot of people were really positive and receptive, but some people didn't know it was World AIDS Day, or were negative. It just proves we still have work to do to educate people."
You can help raise awareness by:
wearing a red ribbon
use the following hashtags on social media:

#endSTIGMA
#endISOLATION
#supportHEALTH

Make a donation to PWA
---
Click here for more photos of the Red Ribbon Brigade.