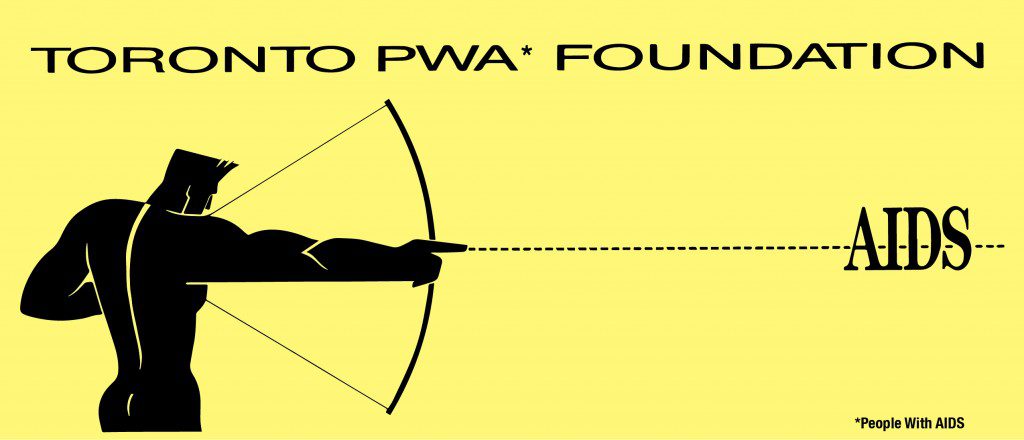 PWA logo from 1985
History
Since 1987, the Toronto People With AIDS Foundation has been helping men, women, trans men, trans women, and children live with HIV/AIDS.
We are a community-based non-profit registered charitable organization.
After the discovery of the HIV virus in 1983, AIDS Service Organizations formed to address the major trends of the disease: to help prevent the spread of HIV and to care for those dying from AIDS-related illnesses.
In 1986, in response to this emerging trend and frustrated by the public's focus on AIDS prevention and lack of services for people already infected, four gay men living with HIV/AIDS began meeting to discuss ways for people living with HIV to stay healthy and live with dignity. They formed a coalition with a mandate to provide practical, direct-support services to people living with HIV/AIDS using a peer-to-peer model.
The first PWA office was housed in the apartment of one of the founders at 44 Huntley Street followed by a brief stay in Casey House until funding could be secured for the location on Yonge Street.
This coalition organized the structure of the Toronto People With AIDS Foundation and, on May 11, 1987, the Ontario Charitable Letters of Patent were granted.
At the first Annual General Meeting in 1988, membership elected a nine member Board.
With the ongoing improvements in treatment options since the mid-1990s , the number of AIDS related deaths have drastically decreased and the needs of people living with HIV became increasingly complex, necessitating expansion of services to our clients across Toronto and the GTA.
PWA shared space with the AIDS Committee of Toronto at 399 Church Street before moving to our current location at 200 Gerrard Street East.