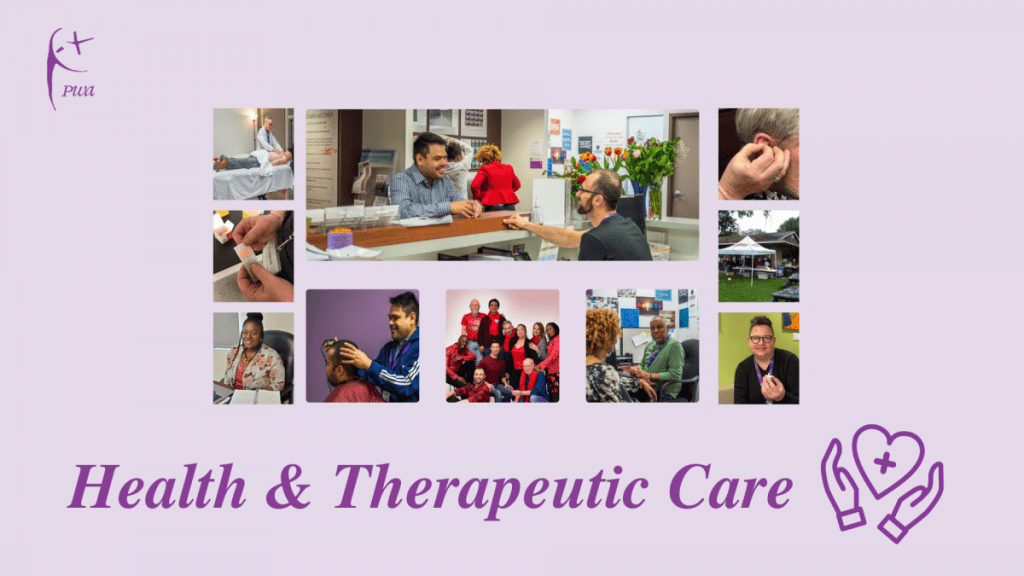 Health & Therapeutic Care services at PWA support the holistic health and well-being of people living with HIV/AIDS.
These Programs provide free, on-site holistic health care to complement conventional medical care for people living with HIV/AIDS (PHAs). Services include;-
Acupuncture
Massage therapy
Art Therapy
---
Community PHA Naturopathic Clinic
This clinic provides free, naturopathic care to PHAs. Operating out of the Sherbourne Health Center, the clinic is a partnership between PWA, the Canadian College of Naturopathic Medicine and the Sherbourne Health Centre.
To make an appointment, contact the Clinic at 416-498-1255 ext. 229 or chcinfo@ccnm.edu
---
Health Champion Treatment Resources Project
This project aims to empower PHAs by providing accessible health information through workshops and one-on-one health consultations.
---
Pet Program
Pets bring joy and comfort to their owners, and can be an especially valuable companion to people living with HIV/AIDS. The Pet Program offers help to people living with HIV/AIDS who need assistance in caring for their cat or dog. In addition to supplying pet food through the Essentials Market, PWA offers access to yearly check ups, vaccines and neutering or spaying at reduced rates.
---
Social Programming
Emotional health is just as important as physical health when living with HIV, which is why PWA offers social programming. PWA helps create opportunities to attend social outings, such as its Holiday Show and Community Summer Picnic, or even get a haircut. Reduced isolation, increased social support, ongoing learning and improved self-esteem are all social determinants that play an important role in staying healthy.
---
Theatre Access Program
The Theatre Access Program distributes donated tickets to those who otherwise may not have the means to access cultural and recreational activities that many take for granted.
If you are interested in donating tickets to PWA please contact our The Therapeutic Care Coordinator.
---
Holiday Dinner and Show
The Holiday Dinner and Show provides a festive meal and live entertainment to clients of PWA. The Holiday Dinner and Show celebrate the joy of the season by providing a fun environment and a nutritious meal. There is a special emphasis on including homebound clients, who are especially socially isolated due to health and mobility challenges. The Holiday Dinner and Show usually take place within the first two weeks of December. All clients are welcome to attend the Holiday Dinner & Show and receive a Holiday Hamper. Information about Holiday Dinner and Show is available in November.
---
Hairstyles and  Barber
Every Mondays and Fridays from 12:00 p.m. – 4:00 p.m. We offer barbering and hair styling for Afro-texture hair. The hair stylists provide free haircuts, braids, hair extension, wigs upon request at the PWA offices.
---
PWA Summer Picnic
In the summer, PWA organizes a summer picnic for its community members. The picnic provides a fun social outing in one of Toronto's city parks.
---
If you have any questions about these programs, contact The Therapeutic Care Coordinator, Chris Godi at 416-506-1400
Ext. 261 or Email
---