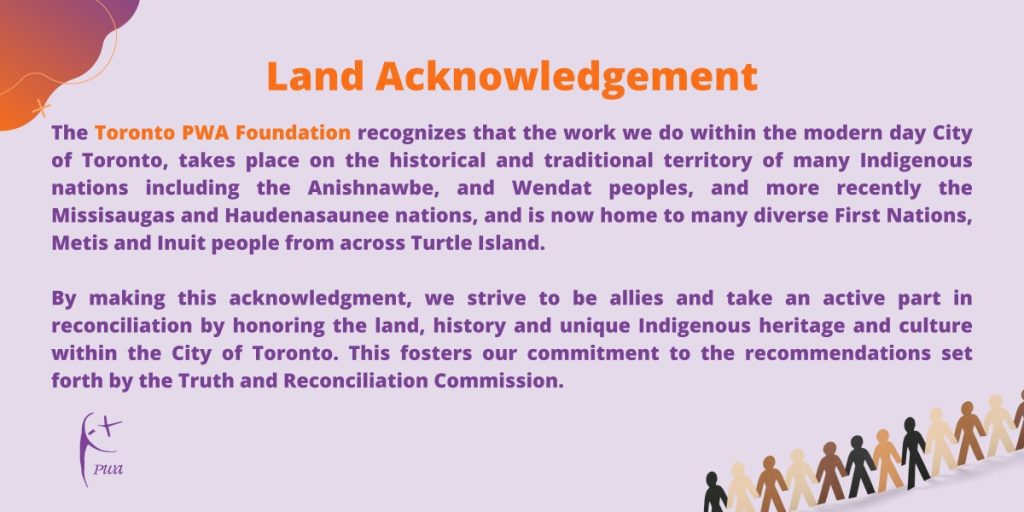 ---

Dear PWA Community,
This is a kind reminder that we relocated to 163 Queen Street East 2nd Floor, the future home of an exciting new community Hub for people living with and affected by HIV, especially those more vulnerable to HIV/AIDS
---
PWA OFFICE HOURS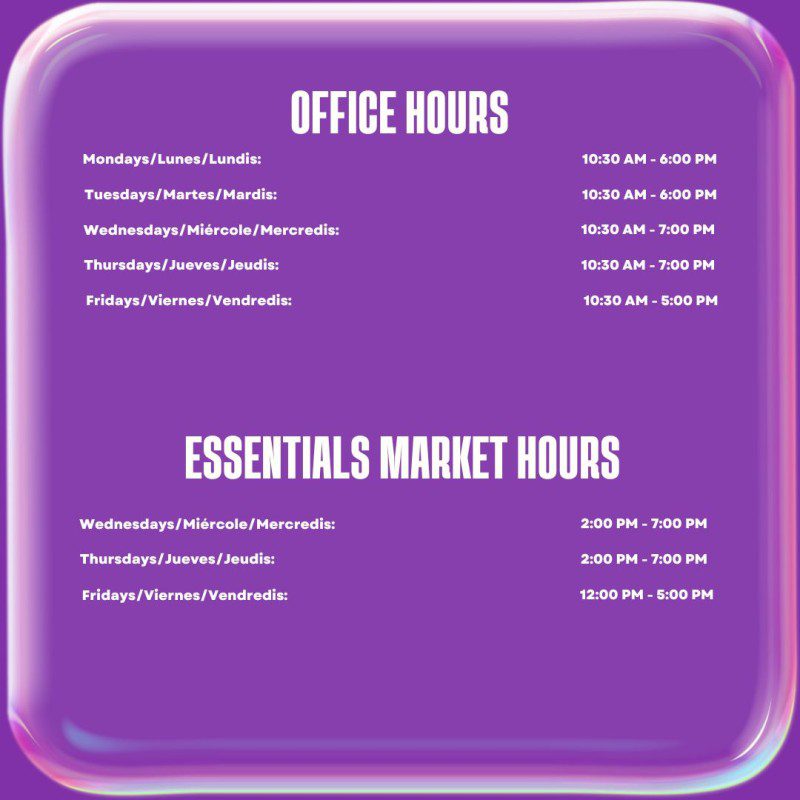 ---
If you have tested positive for HIV, sign up for services today by calling our front desk at (416) 506-1400 or leaving a voice mail on EXT 245
We promise to follow up and confirm your appointment.
---
Dear PWA Community,
We are very happy to share with you that we have been benefiting significantly from the rich wisdom and advice of Rod Michano, who is now PWA's Indigenous Spiritual Advisor.
Many of you would have seen that we have installed the land acknowledgment in both the essentials market and the reception area on the second floor. continue reading here.
---
PWA's Hair Salon
Dear Community Members:
PWA offers hair salon appointments.
When: Every Monday from 12 pm to 4 pm.
We have barbers and stylists!
We now also offer haircuts for women and for children!
When contacting us for an appointment, please indicate your preference for a barber or stylist.
Before your appointment, we request that you wash your hair twice to remove any hair products.
To book your appointment, contact your Therapeutic Care Coordinator, Chris Godi, at 416-506-1400, Ext. 200 or 261 or email them at cgodi@pwatoronto.org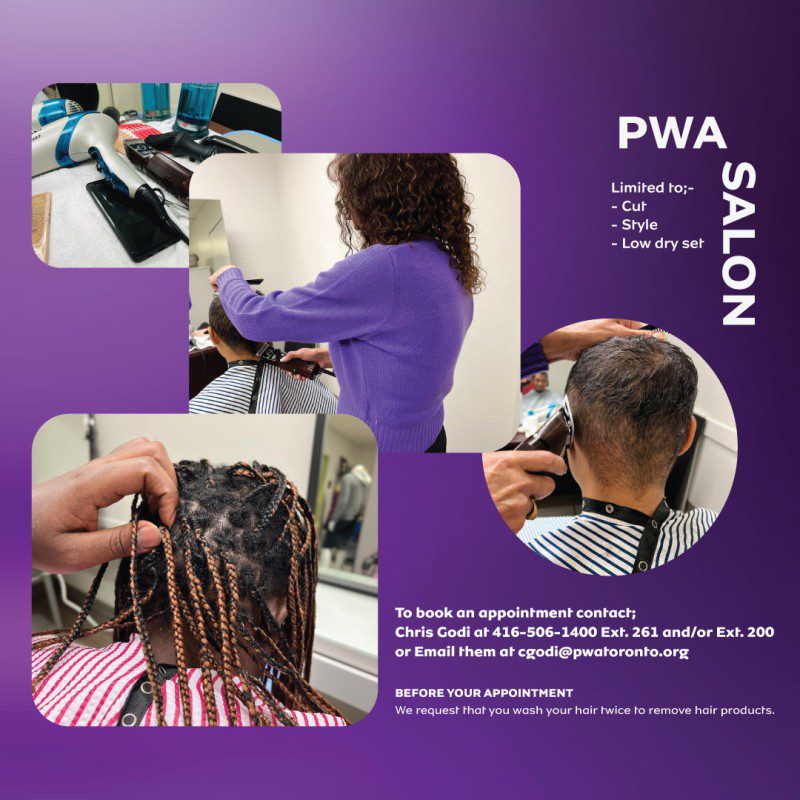 ---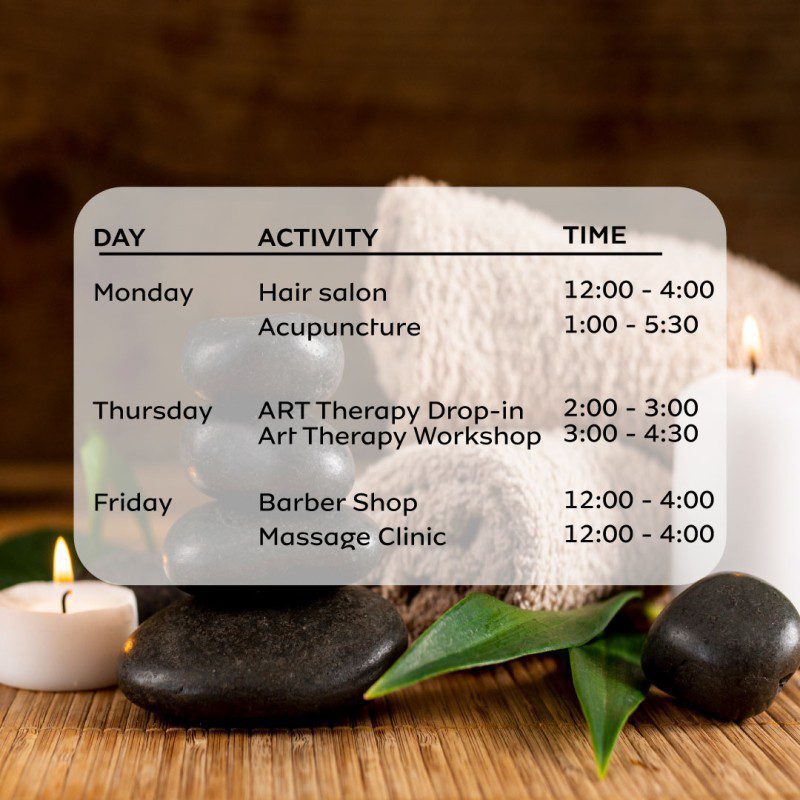 Therapeutic Care Announcement
Dear Community Members:
Therapeutic care services are available for our community members.
For more information, contact your Therapeutic Care Coordinator, Chris Godi, at 416-506-1400 Ext. 261 or email them at cgodi@pwatoronto.org
---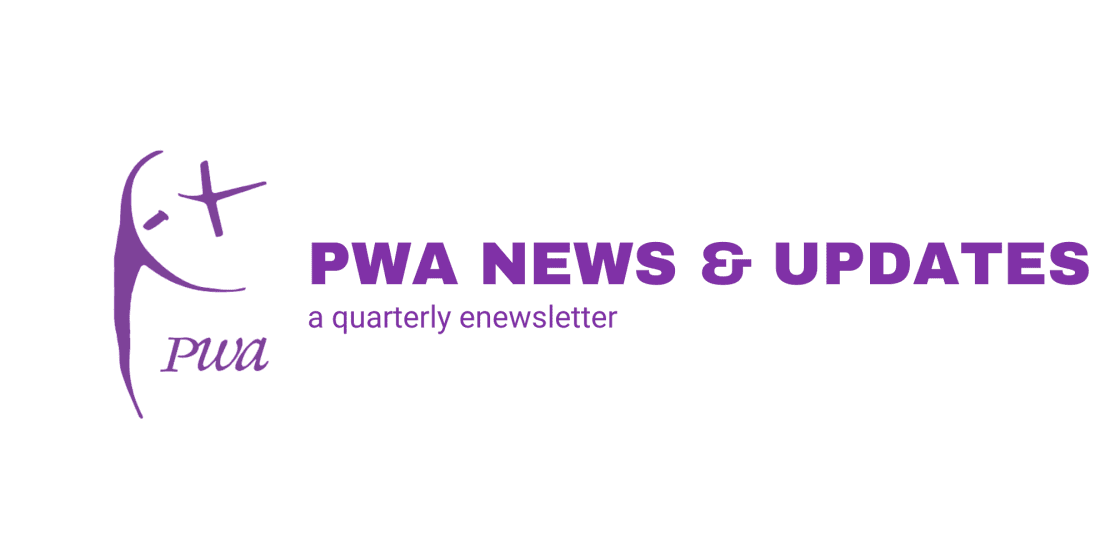 ---
Important Updates
In-person appointments will be available with our staff and peers. Please contact any staff you wish to meet with to book an appointment. Staff and peers will be available during office opening hours.
Haircuts: Barbershop/Salon is open! Please contact Chris Godi for more information (cgodi@pwatoronto.org or (416) 506-1400, ext. 261).
Financial Assistance: We will no longer be accepting any requests for financial assistance after August 31st, 2023, until April 1st, 2024.
Harm Reduction: you can pick up harm reduction and safer sex supplies on the 2nd floor (During office hours) and/or at the Essentials Market on the first floor (During market hours).
---
Looking for information about HIV/AIDS testing and services?
Visit our Links page for a comprehensive list of local, provincial, and national organizations.
Visit the  Sexual Health InfoLine Ontario (SHILO) https://sexualhealthontario.ca/ (416) 392-2437 or 1 (800) 668-2437 (formerly the AIDS and Sexual Health Info Line)
CATIE (www.catie.ca) for content related to HIV education and treatment
Gay Men's Sexual Health: www.gmsh.ca
African and Caribbean Council on HIV in Ontario: www.accho.ca
Women and HIV/AIDS Initiative: www.whai.ca
HIV Resources Ontario: www.hivresourcesontario.ca/
Hello Ontario http://helloontario.info/
---