On Tuesday March 13, Toronto legend Amanda Roberts once again rallied the troops for The Stars Reach Out to PWA, a community fundraising event founded by the late Toronto drag icon Chris Edwards.
Chris tirelessly raised funds for PWA. Her signature event – an ensemble cast of character impersonations – was an annual blow-out event of the best drag in Toronto. Amanda along with some of the most seasoned drag members in the community – Jade Elektra, Georgie Girl, Devine Darlin, Nicolette Brown, Taran Blake, Vitality Black, Jada Hudson, Rachel Temptation, Sylvia, Jeanette Dupre, Fontaine, Sha'naja D'Jae Devine, and Ashlee Furniture – entertained the crowds tirelessly throughout out the evening. It was truly a fantastic night and exemplified Chris's spirit of giving.
With heartfelt thanks to Woody's owner, Dean Ordorico, and his team for opening their doors to host the show and provide delicious foo. And our other generous sponsors, Hair of the Dog Restaurant, O'Grady's, Buddies in Bad Times Theatre, Lucky Sister Tatoo, Mildred's Temple Kitchen, Distinct Hair design, House of Glo Tanning, Roots Canada, Starbucks, and The Men's Room for their gifts. The incredible PWA volunteers along with Staff and board members joined us for a truly special evening united in raising money and supporting PWA. The event raised $2245.00 adding to the already $300,00+ that Chris raised over his 25 years of community fundraising for PWA.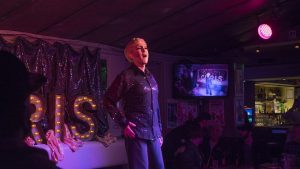 Chris developed this showcase later on in fundraising endeavours. Her long-time partner John Hiner pushed her to do it. After John passed away, Chris decided to do it in his honour. She chose all of the entertainers and which character look she wanted each performer to be. Without any hesitation everyone agreed to do the show.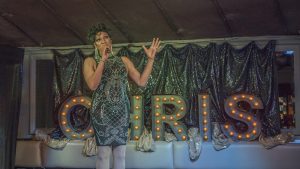 Chris originally moved to Toronto from Florida to join the cast of the La Cage show impersonating Prince and Michael Jackson. Eventually Chris started doing female characters and took the city by storm and headlined in multiple venues over the years. She hosted a talent night that gave a lot of young entertainers their start. An iconic drag performer many consider to be the heart and soul of Toronto's gay scene. Edwards began performing in Toronto at La Cage Aux Folles — where the Hard Rock Cafe once stood at Dundas Square — in the late 1980s. Her warm and humorous performance style made her instantly popular, long-time friends say. In the early '90s, she brought the Continental drag style to Toronto and established two pageants — Miss Gay Toronto and Miss Gay Universe. Throughout the late '80s and '90s, she went on to win multiple titles, including Miss Gay Canada, Miss International and Miss Continental New York
Chris gave generously to multiple charity events and never asked for anything in return and was a big part of the Toronto LGBT community for decades. She had a deep and impactful relationship with PWA. Chris's dedication and commitment to people living with HIV/AIDS has changed lives and to this day her legacy continues to inspire. Her influence had no boundaries which was evident through her commitment to the community. Chris will always be an important part of the many communities that she engaged in, and in particular, her PWA community. She used her celebrity and talent to bring awareness and attention to the many issues faced by people living with HIV/AIDS. Throughout the years Chris humbly and proudly raised over $300,000 for the Toronto People With AIDS Foundation. She enthusiastically put on fundraisers, most times pulling the drag community together, to meet whatever desperate need was presented. She never lost faith in her belief that, individually or collectively, people can make a positive difference.
Chris continues to shine her light.