It was fun, it was fabulous, it was PWA's High Heel Strut!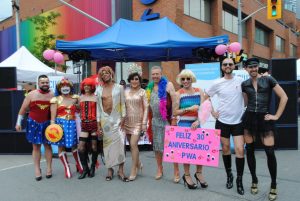 The origins of the fun and outrageous event when Twenty-five contestants entered the first high heel drag race held outside J.R.'s Bar & Grill (at 1529 17th St NW, Washington, D.C.) on Halloween 1986. The midnight dash went one and a half blocks to Annie's Paramount Steak House where the racers ran upstairs for a shot of schnapps, then down the stairs and back down the street to JR's.  PWA's High Heel Strut is a nod to this distinguished and popular event and has become a staple in PWA's fundraising activities.
On Sunday June 18 PWA was proud to partner with the Village BIA and join in Village Fest held on June 17 & 18. PWA's outrageously fun High Heel Strut took place at the corner of Church & Maitland where eight incredible participants showed off their fabulous side with their best strut, dance, and of course the grand finale, a race down church street. In collaboration with PWA's 30th anniversary each individual had to strut for 30 feet, dance for 30 seconds, and run 30 meters and did they ever deliver a show!
Our talented Judges ranked each participant on style, grace, and dance moves. After much deliberation victory went to David Morris who was crowned the overall winner, Denny Tai Quoc as the Race winner, and our Top fundraiser Francis Gaudreault.
Together with our participants, our fabulous MC Morgan James, esteemed judges Nancy Pryce, Randy Royd, and Kevin John McDonald, our talented DJ Phil Villeneuve, and the incredible PWA volunteers Philip Dawson, Karen Hawes, and Michael Cress, the event raised $3855.00 to support people living with HIV/AIDS.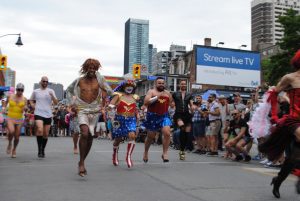 Thanks to all our sponsors who supported the event, Take a Walk on the Wild Side, Johnson & Johnson, Buddies in Bad Times Theatre, Hair of the Dog Restaurant, Ottway Herbs & Vitamins, Akasha Art Projects, Starbucks, Loblaw, and McGregor socks.
With heartfelt thanks to our participants, volunteers, and sponsors for  joining us at PW'A's annual High Heel Strut and helping make the event a resounding success.
Check out some amazing photos of our struters in action! Photography by Samantha Zapreff
View and share the video montage of the event.