Similar to the founding of PWA, the Friends For Life Bike Rally came to be as a result of a few community minded individuals' desire to make a positive difference. In 1999 David Linton and Danny Nashman came up with the brainchild of cycling from Toronto to Montreal in and effort to raise awareness – but more importantly to raise critical funds for PWA. With a couple of dozen friends, some planning, and a hope for the best, they set out on this 6 day, 600+km adventure not knowing that they were launching a movement that would continue to dramatically impact the lives of thousands for years to come.
This year we celebrate the Friends For Life Bike Rally's 20th Anniversary. An incredible leadership team of volunteers along with participants; donors; sponsors; and friends – supported by a small staff team – have already put in hundreds of hours of planning, fundraising, training, and strategizing in a collective effort to make this year's Rally the best it's ever been. All of this effort is focused on raising as much money as possible to ensure people living with HIV have access to the critical services they need and count on to support their best health.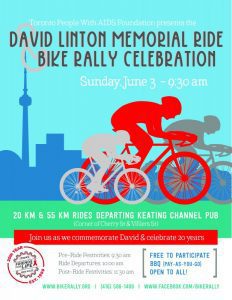 Celebration Opportunities
Get a taste of the Bike Rally
Join us June 3 for the David Linton Memorial Ride. Every year we honour and celebrate David and his legacy. Choose between the 20 KM or 55 KM ride options – or just come for the social! Click on the poster or here to find out more!
Join the PWA Bike Rally Cornerstone Crew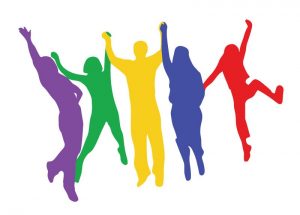 What better way to share the magic of the Bike Rally than to bring you along with us for part of the event! On the first day of the Rally there's a ton of excitement as the Toronto to Montreal participants gear up for their 6 day adventure and the Toronto to Port Hope participants embark on the amazing 1 day experience.
This year we invite PWA volunteers, clients and their families to join us for day 1. Come to Nathan Phillips Square to cheer and send off the Riders and Crew. Fifty-five (55) lucky individuals will then board the coach bus and be transported to the beautiful lunch spot at Lakeview Park in Oshawa before ending the day at the breathtaking Haskill's farm where dinner and celebration events continue. We will then bus you back to Toronto with incredible memories that will last a lifetime.
The Cornerstone Crew are the Bike Rally's official cheering squad. We will provide transportation, meals, snacks, cheering squad props. You need to bring your best and brightest energy and enthusiasm.
This is a first-come, first-serve opportunity. Registration will open and more information to come in July so stay tuned!