Pride Toronto is one of the largest and most diverse festivals in Toronto, the event exists to celebrate our history, courage, diversity, inclusion and the future of the LGBTQ community.
The month long festival includes activities that range from street parades, evening parties, cultural events, and of course to celebrate who we are.
Today, more than 27,000 HIV Positive individuals live in Ontario and PWA, as a charitable organization, understand the stigma and discrimination surrounding PHA's. This year Pride Toronto asks everyone, "What will you add to Pride?" and our answer is that PWA will continue to provide a healing and welcoming space for those living with and affected by HIV as we've strived to do during our 3o year history.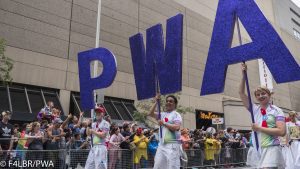 On Saturday, June 24 and Sunday, June 25 together with PWA staff, volunteers, and Bike Rally Participants PWA hosted it's annual Community Fair Information Booth. This incredible team braved the summer heat and at times rain to share information about the Toronto People With AIDS Foundation and its sustaining fundraiser, the Friends For Life Bike Rally. The volunteers engaged the pride audience and spoke passionately about PWA, our programs and services, the 30 year history supporting the community, and the Friends For Life Bike rally, now in its 19th year.
The weekend of celebrations culminated in the highly anticipated spectacle that is the Pride Parade. Alongside staff, volunteers, clients, and Bike Rally participants PWA joined many other organizations to march down Yonge Street with hundreds of spectators there to cheer us on.  The theme for this years' parade was remembering and living, a vision focused on what PWA is today and to remember yesterday's journey through the AIDS epidemic. With it being PWA's 30th anniversary it was important to reflect on the history, be proud of the many accomplishments, and highlight the strengths of the organization. A seventy person strong contingent marched together on foot and on Bicycles proudly  highlighting PWA through placards, the agency and Bike Rally banners, and Red ribbons to aid in reflecting on the journey. The smiles, positive energy, and engagement with the community throughout encompassed the spirit of what PWA is and what it means to so many.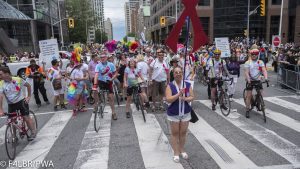 The opportunity to reflect on PWA's rich and impactful history and to band together with individuals who have been affected by PWA brought to life 30 years serving people living with HIV/AIDS.
Check out photo highlights from the parade. Photography by Denny An