The Toronto People With AIDS Foundation (PWA) is fortunate to have incredible community partners like The Canadian Memorial Chiropractic College (CMCC), working together to provide care and resources for people living with HIV/AIDS (PHAs). CMCC is recognized as one of the most innovative chiropractic institutions in North America, providing chiropractic care for patients in its seven community based teaching clinics throughout the Greater Toronto Area.
CMCC recently honoured Mike Twamley, PWA's Director of Philanthropy & Communications with the Joint Advocacy Award. This award recognizes those who work hand-in-hand with CMCC to provide treatment to underserviced communities. In his role as Director of Philanthropy and Communications, Mike provides overall leadership to all fundraising activities with partnership organizations and community groups. CMCC has been a partner of PWA's for 15 years providing chiropractic care at their Sherbourne Health Centre clinic. In 2013 a unique opportunity developed with CMCC student interns providing chiropractic and soft tissue treatments during the annual Friends For Life Bike Rally and additional training abnd education for Bike rally participants. Over the past 5 years, Mike has worked closely with Dr. Craig Jacobs, Director of Clinical Education & Patient Care at CMCC and his team assisting in the annual recruitment of interns for the Bike Rally. Under Mike's leadership, PWA and CMCC have continued to grow their relationship and expand on opportunities to ensure mutually beneficial outcomes for PHA's, Bike Rally participants, and student practitioners.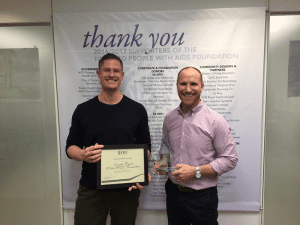 Mike proudly accepts the CMCC Joint Advocacy Award, presented on Thursday, April 5 at the CMCC Partnership Appreciation Event. On behalf of the clients, staff, volunteers and Board, we extend our gratitude to CMCC for its recognition of Mike and PWA with this award. In addition to the Joint Advocacy Award, PWA was presented with a Clinical Partnership plaque, recognizing and celebrating the educational and clinical partnership that PWA and CMCC share.
Community partnerships continue to reinforce the importance of collaboration in supporting people living with HIV/AIDS. It is through these recognitions and engagement opportunities that we're reminded again of what can be achieved and how individuals, organizations and the community can benefit. PWA's mission is to provide practical support, that enhance the health and well-being of PHA's. Community partnerships help PHA's dream today and plan for tomorrow.
---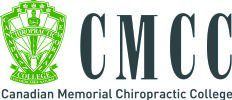 Located in Toronto, Ontario, Canada, CMCC is a world leader in chiropractic education and research. CMCC is an academic institution offering a second entry undergraduate professional degree and postgraduate and continuing education programs. A not-for-profit, charitable organization, CMCC receives no direct government funding and relies on membership, tuition and donations for support.