Conversation with………….Students at PWA

Emily, Matt, Karen & Damla

Students on practicum are an essential ingredient to the future of any environment – and the learning process of each student who works alongside regular staff and volunteers. In conversation, we have a chance to hear what they are thinking as they approach the end of their time with the Toronto People With AIDS Foundation.
PD: Why did you want this internship? Why Toronto PWA?
Karen: I was excited about Toronto PWA's holistic approach to care for clients. Nick came to my school and he was fun and very energetic. I was interested in sexual health care.
Damla: Actually, I didn't choose Toronto PWA. I didn't know what PWA was up until my placement coordinator chose it for me. So I decided to go in for the interview and see what PWA is all about. But I was supposed to do the research before going. I met with Bill Handley, Income & Community Liaison, for my interview. He told me a little bit about the organization and gave me a tour. I thought I would give it a try. It seemed very interesting. A population I've never worked with before. I didn't even know a lot about HIV or AIDS. And that's how I got introduced into it.
Matt: Initially I was drawn to work with the LGBT population and that kind of sub-factored into HIV/AIDS so I came in for a scheduled interview with Rachel Dickson, Interim Service Access Manager. Before that I did research and I thought it was super cool that there are multiple things PWA is – it's not just one thing that offers one service. It's a supermarket of different agencies. We're connected to Fife House, Latino's Positino's, etc. And we have the Essentials Market. It's a whole bunch of different things in one like the Circle of Care. So it's good for networking as well and getting to know different HIV agencies in the process.
Emily: I got matched with PWA. I requested a couple big general sectors and the HIV/AIDS services was one of them, I found it interesting. I got my interview with Kevin Borden, Interim Food Programs Liaison, at the Essentials Market and he sold the place really well. He did a great summary of everything they do here like the programs and what I'd be doing. It sounded like a lot of fun, and a new population which I hadn't worked with before, so I went for it.
PD: How are your University/Professors involved in your practicum? (Emily, Matt)
Emily: It's different for third and fourth years. In fourth year we have a seminar class that we attend once a week and sometimes it's really a place where we put theory into practice. We sometimes we do check-in's: How is your placement going? What's a good thing that happened? What's a bad thing that happened? Describe your placement like the weather and that kind of thing. Our Professor comes in for one visit a year because that's a mandatory minimum, and, if you need more visits they will come in for more . We do two evaluations,  a mid-term evaluation and a final evaluation.
Matt: It's actually the same as what Emily said.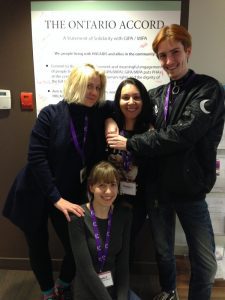 Emily: The presentations and papers are different.
Matt: We have to do one group presentation in the year. We do it in between other classmates in your group. You have to pick instances which happened in your agencies. You'll talk about what happened in your incidents and the other two will talk about that situation. I did my presentation yesterday about what is happening at PWA, and then my classmates discussed it
PD: Have you previously been involved this closely with PHA's? (Karen, Emily)
Karen: My placement before PWA was with Planned Parenthood so I was working with teen outsource so o I had experience talking about STI's and some prevention. Through that I was introduced to the importance of sexuality with people who have STI's and more complicated questions about consent and sexual health. One of the reasons I came to PWA was because I wanted to build on that knowledge. HIV is one of the areas where things get complicated in ideas about sexual health and relationship health. And what we do around disclosure. Because I was working with mostly teens I was really inspired by them taking on advocating for positive people's sexuality and advocating for people's rights in terms of making the choice to disclose or not disclose, trying to create safe conditions around that. Coming here I'm finding I am learning more about people who are HIV+ and are changing their lives and some of the things that get in their way of being able to doing that. Being HIV+ can complicate basic needs and at the same time meet your basic needs.
Emily: I haven't been this closely involved. My last placement was a homeless drop-in. I was always circling around the perimeters of PHA's but not this closely involved. So when I came here there was a good chance to try it out.
PD: Tell us about a good and bad experience you've had with a client. (Matt, Damla, Karen)
Matt: We had a client come in and he started reciting a performance piece which made a lot of people uncomfortable when he became loud. He asked to speak to the Executive Director and when Suzanne Paddock came out all the other staff members started circulating because he was  very loud. He was talking about the injustice, depression, and marginalization. And, a lot of the staff members, after at the debriefing mentioned they had a hard time with the situation. It was kind of a negative experience but at the same time it was a winning experience. And on the positive side of things just every single day getting to learn everyone's different narrative is very interesting to me. I feel that that is the core of social work in general being able to have good listening skills and internalizing what other people are saying to you. That's really positive for me.
Damla: I've been here since September. I've had experiences with a client. One experience made me feel a little uncomfortable was – I was sitting at the front desk with Emily. A regular client came by and he had seen me sitting there and was curious about who I was which I have no problem with. It's just the way people frame their words, he asked my name, my age, where I came from. I gave a very general answer of Toronto. He said "no where are you really from". I said Canada. "No, where were your parents born or where were you born"? I told him the exact place and he said he figured that because I have an accent. And when he said that I just had nothing to say because that's a common question I get.
PD: Was his expression flat? Cold? Negative?
Damla: It was very calm. It seemed like it was idle curiosity. But, every time somebody asks where are you really from, or, you have an accent it makes me feel like I am not a part of the agency, or I am not part of Canada because of others' needs as an individual. I guess I would say that is the worst ones.  In terms of positive experiences a client came in to see my supervisor, Rajesh Pisharody, Income & Community Liaison. He was out at lunch and there was nobody else to see. And the issue that this client came with seemed very important. It was an emergency. She just wanted to see somebody. So, I decided to take her into my new office to see what the issue was about and to see if I could do something to support her. It was positive experience for me even though I didn't tell her AB & C. It was the point that I spoke to her and made her feel validated. And told her I would pass this on to Rajesh and we will work with it and he will call you. It made me feel nice that I was able to support somebody without actually doing much for them. She left happy.  I was happy.
Karen: PWA has a very positive, happy vibe. And I feel really blessed to be here regularly and see how kind people are to one another. I see lots acts of love and kindness regularly and I think it makes my life feel better. It's really important to see that. And a school my training tends to focus on what people don't have and the effects of discrimination. A lot of talk about what people' struggles look like and how that's really complicated. So it's nice to be in a space where some people might be experiencing those struggles but who are overcoming it and also supporting each other to overcome it. That's been really important. I love that.
As far as negative experiences what I run into often is I look very straight and people often assume I'm straight and I'm not. And also sometimes people are really struggling, in a mood, and something is going on with them. It's difficult to know how to support them and sometimes things get off on the wrong foot which leads to conflict. And that's really hard. People are under a lot of stress sometimes when they come here. The first person they talk to is maybe the first they are able to talk to. And some are really in emotional pain  and stress, and they can lash out. I also see people working through that and it's not a deterrent to that love and care. I think that's really important.
PD: Some clients suffer from mental illness, challenges caused by the older HIV medications which were very powerful and hard on their system, and the environment and stigma they face every day.
Karen: Since PWA offers holistic care people are coming back for different issues in what they're dealing with. If there was a problem they were trying to solve they don't have another place to go to necessarily for solving all your problems in one place, sometimes I'm depleted at the end of my day.
PD: How do you feel about working alongside the PWA team? And the supervisors that are volunteers? (Emily, Matt)
Emily: I love it! I really do. Everyone is amazingly supportive of each other, of the students and of the volunteers. Of the clients that come in. It's really nice to work in a place where you now that the other staff have your back regardless of the situation. Or what's happening. I love it. It's a great team.
Matt: Yes, it's really cool that you can go and talk to staff members and volunteers who have absolutely nothing to do with you; don't have to talk to you; but, will sit and talk with you. To get along with them it's really nice to have the reassurance. Even if they don't have anything to do with your work area they'll take your problems very seriously as well. It's a very inclusive environment. I've never been somewhere where I can connect with all the staff so well because everyone is so in-tuned with each other. It's nice.
Emily: They're really good about if you have questions, and then answering it without judgement. I mean about walking in here completely cold about ASO's and all the related stuff, the staff, the volunteers and even the clients. You ask but you realize in hindsight you look dumb If you ask a straight forward question. They are amazing about answering it is just helping us learn more about living with HIV.
PD: What are your future goals once graduated? (Damla, Karen)
Damla: I've thought long and hard about my future after graduation. I'd eventually like to get my Master's in Social Work. But, I don't know if that's something I'll do as soon as I graduate. I'm in fourth year now, however, I am taking another year. So, I'm not graduating until 2018. After I do graduate I'd like to get a secure job; work full-time for a couple years. Gain some experience. Hopefully go back to school to do my Master's. In the meantime try to get myself into counseling because that's my dream and goal- to become a counsellor for youth, potentially youth at risk. And it's to work with students, whether it's at a hospital setting or a school setting. I do a lot of work with students now so I feel like the experience I'm gaining can really add on to my future and kind of pave the way for me. And I'd eventually like to open a Woman's Shelter down the road. That's always been something on my mind. Specifically for a woman who faces domestic abuse.
Karen: This is kind of a scary question for me I guess in that. I kind of allowed myself to not plan ahead because I'm in school presently. I'm thinking of getting my Master's in Social Work but I'm also not really enjoying being in school.
PD: What year are you in?
Karen: I'm almost finished my program, I'm in my final year and my last Semester. I would love to work at a place like PWA. It's great to see how kind and excepting everyone is here at PWA. Being able to talk to anyone and get help. That's rare to find. My goal is to find places that have a work environment similar to PWA and to model that for myself in how I interact with people at work and in general.
PD: What has been your most memorable experience at Toronto PWA?
Emily: It was the Holiday Food Hamper program. It was so much fun! Decorating, especially hanging those snowflakes. It was just so much fun hanging out with the volunteers all day and seeing all of our clients in a place that's not this office. It was such an intimate environment. Everyone knew exactly what they were supposed to do packing all those Holiday Hamper bags. It was amazing. I loved every second of that 12 hour day.
PD: Everyone is focused that day. It's an efficient machine.
Matt: That's the best answer obviously. I guess I'm going to say I really like doing volunteer interviews, placing volunteers with Roy Schuurhuis, Interim Engagement Coordinator Dreaming & Opportunities. Usually he leaves me to do the interviews and after they're done he and I will sort out where to place each volunteer. But when I do the interview one-on-one it's a really an intimate experience to learn all about this person. And they are usually very open to talk about their whole lives. It really opens my eyes a lot, it's not only one particular experience but multiple, I'm grateful.
Damla: I'm going to have to agree with Emily because it was my most memorable time here at PWA.
PD: Holiday Hamper Day?
Damla: Yes. Not just the day itself but the whole process of it Emily was given a different task and I was given a different task. Most of them were big projects that we can bring forward to our future work places because they were huge. We were dealing with large amounts of money. They gave those tasks to students which is very empowering to me and the whole process of it, going back-and-forth, asking for support and asking a bunch of questions. It made me feel very connected to everyone that works here, even the times where it was getting very exhausting and very tiring, there are always staff like Rachel Dickson and Rajesh Pisharody who you could just go into their office and cry and not feel ashamed about it. And then the day of the Holiday Hampers I felt like one of Santa's Elves. Everything was in order and everyone was so happy. Their happiness eventually affects you. Waking up that morning and being there for 9am, I thought this is going to be a long day. But then the day and time just flew by, I actually didn't want it to end. Even the cleaning up process afterword was fun for me and that was weird I loved decorating with Emily.
Emily: The decorating committee of two!
Damla: Yes! I can now add that to my resume. The staff was kind enough to order us all lunch, I thought that was kind of them.
Karen: My most memorable experience was actually the day after the Holiday Hamper Day. I loved the Holiday Hamper Day. But, the next day there was, Starry Night, the staff and volunteer Christmas party at Flash. It was fun. And everything was donated, and volunteers put so much work into everything. We shared all the food. There was drag performances and dancing. I got to meet a lot of volunteers on the dance floor. It was a lot of fun.